Great Websites Add Great Values To Your Business. From Wire-Framing To PSD Designing, We Do It All.
 The Play Store is being flooded with more and better alternatives UI/UX Designs. This means that the competition for top spots has never been so tough, but it also makes finding your perfect app or game easy as pie!
Well isn't this just fabulous news? It seems like we're living in a world where there's always something new to explore at any moment – don't you think so too?!
I'm sure most people would agree: We love nothing better than staying up-to-date on all of our tech innovations by constantly checking social media sites.
We're a team of creatives who specialize in providing high-quality UI and UX design. With over two years' experience, we have designed interfaces for both web applications as well as native mobile apps that are fast enough to operate on any device with ease while still being aesthetically pleasing! Our creativity doesn't stop there though; if you need branding or product designs among other things too then look no further because this is exactly what they do best.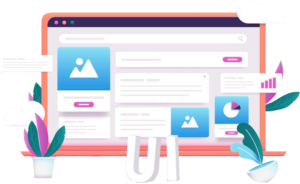 Mobile App Ui | Ux &
Prototyping
The story your company tells
through its logo is the
most important aspect of
branding. It should
be an image that reflects
what you offer, and
we can help tell
those tales for all different
types of brands out there!
We know that a logo
is the backbone of
your brand. If you
don't have one, then
it's time to get
creative and design one!
We are well equipped
for this task with
endless possibilities at our
disposal – just let us
create something amazing
worthy enough as part
of what makes you
worth recognition from every
person who sees or
interacts positively towards
your brand.
Website Ui | Ux &
Prototyping
We understand how much
thought an organization
puts into its presentation,
and we're here for
you when it comes time
to create a logo! Our
designers have years of
experience creating corporate-level
designs with sleek visuals
sure makes them perfect
candidates if this is what's
needed at present or for
future projects ahead.
When do you need
a logo designed,
but do not know
where to start?
Hire our team of
designers. All it
takes is one
simple call and we
will take care of
everything from there!