Best Email Marketing Service Provider
USE KSM MEDIA HUT EMAIL MARKETING SERVICES TO CREATE SUCCESSFUL EMAIL CAMPAIGNS
Well, people like to be treated special, and nothing says more than a personalized email. The  email marketing services offered by KSM Media Hut focus on this and create targeted campaigns that only focus on your customers. This leads to lead generation.
In today's modern world where every business is either online or about to go online. In such a competitive world, if you still use traditional methods to increase your sales, no one will appreciate your sanity. The era we live in is one of intense digital marketing, and if you don't keep up to date with the rapidly changing dynamics of the world around you, you'll soon be left behind. To stay ahead of the curve, get acquainted with these changing trends or if you don't have the time, our team at USE KSM MEDIA HUT provides email marketing services to clients overseas.
Email marketing has been growing to be one of the most powerful marketing tools these days. It's a huge opportunity, which is why many businesses are taking to email marketing to increase their revenue. KSM Media Hut is one agency that specializes in email marketing. Here they will show you how you can use their services to create successful email campaigns.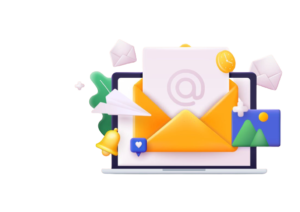 Email Campaign Management Services
Are you looking for a reliable partner to manage your email marketing campaigns in an efficient, effective, and measurable way? We are behind you. We manage the daily activities of your email campaign and also the one with an error rate of 99.98%. From campaign resource management to validation and planning, from a campaign set up to reporting and analytics, Uplers offers end-to-end email campaign services. Do you already have your email strategy or copy ready? Let us help you plan and successfully execute the best email campaigns.
Email Marketing Services Includes
We offer high-quality email marketing services for your business. We want to provide comfort to our customers.
That's why we offer a wide range of email marketing services.
All email marketing services provided by KSM Media Hut are as follows:
How To Get Started With Email Marketing?
‣ Email marketing is a great way to build brand awareness and rapport with your audience. It is the most cost-effective marketing tool for building awareness and getting your message across to a large audience. However, there are no rules for email marketing, and creating a successful email marketing campaign will be dependent on the specifics of your business.
‣ If you've hired an email marketer from KSM Media Hut to cover all aspects of your email marketing campaign, you don't have to worry about your email marketing strategy.
‣ The first step is to evaluate your goals. Pursue that goal, sign up for email marketing tools, and learn about them. Make a list of potentials and potentials immediately after performing this procedure. Remember, not everyone is a customer. Evaluate your business goals and make a list. The next step is to choose the type of campaign you need for email marketing, then launch the first marketing campaign and review the results.
‣ KSM Media Hut can do all this and more. We have provided email marketing services to many clients and around the world.