SOCIAL MEDIA MARKETING SERVICES
●  GROW YOUR BUSINESS WITH
Social Media Marketing Services 
We Market with Our Best Social Media Marketing Services Experts
There are several advanced strategies for teaching you ways to grow your business. just one factor, however, is important to a company's success: reaching the right audience. Your company will not go far if you are not easily found. It doesn't matter if you have got the most effective product in the world if nobody knows about it. Join our social media marketing organization if you wish to create your business, raise your sales and ROI.
Social media brilliant tool that lets people know that your business exists and helps you earn more clients. The contemporary marketing scene has seen an enormous shift from the standard ways and is a few things to plunge into if you wish to achieve intent on your audience. Social Media platforms are now the hotspots for marketing.
Social Media platforms are where the meat lies. Billions of individuals visit such platforms each day. With the proper strategy, you'll be able to get the correct attention that you just want for your business
If you want to take your business to new heights, you'll want to master the social media platform. By getting SEO Hub to figure for your business, you get the most effective talent to craft and work on your social media marketing strategy.
Our unparalleled effort to provide the most effective results and a laser-focused approach to social media have helped us etch our name because the best Social Media Marketing agency.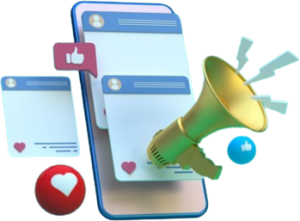 KSM Media Hut is one of the most trusted digital marketing agencies. A variety of services have helped different brands increase their online sales. We offer a variety of digital marketing services, including:
– Web development
– Content marketing
– Social Media Marketing
– Email Marketing
As well as detailed articles on each of these services. Our articles are designed to guide our audience to make the best decisions for their business.
Not just that, but we also have detailed articles covering each of these services. Our articles are meant to guide our audience to make the best possible decisions for their businesses.
What is Social Media Marketing?
Social media marketing is the use of social media platforms to engage with your audience, build your brand, increase sales, and increase website traffic. This includes posting great content to social media profiles, attracting and engaging followers, analyzing results, and running social media promotions.
The main social media platforms (currently) are Facebook, Instagram, Twitter, LinkedIn, Pinterest, YouTube, and Snapchat.
There are also a number of social media management tools that can help businesses get the most out of the social media platforms listed above. For example, KSM Media Hut is a platform for social media management tools that can drive success along with social media marketing. Whether you're looking to build a brand or grow your business, we want to help you succeed.
What is Social Media Management?
As social media evolves, market participants maintain three key goals in each channel: connectivity, communication, and community. According to Sprout Social data, 57% of consumers follow social media brand pages to learn about new products and services. For this reason, brands need to build communities, connect, and publish content that helps them communicate, rather than rushing to publish user actions.
Enter social media management. Sometimes referred to as social media marketing management, it is a branch of social media marketing (SMM) that includes planning, creating, and publishing content on social platforms. This includes regular social media profile audits and audience surveys that are essential for posting relevant content.
KSM Media Hut takes a comprehensive approach to properly managing a customer's social media account. Our social media management companies combine organic and paid solutions to deliver the most efficient and profitable results.
How important is social media marketing to your business?
Just having social media can increase your brand credibility. If your business does not have a social media account, or if you have a social media account but are not regularly updated and optimized, it has the same effect as an empty storefront that collects dust. It doesn't make a good impression, it doesn't help build trust with your potential customers, and it can make users wonder if your business is even up and running. This is because "social media checkout" is part of the buyer research process. That's how important social media is to business these days.
Target the keywords there, As we know that billions of people use social media, most of whom have an average of eight or more accounts. We don't want to build a follower base for any type of person, so we need to be able to sift people's oceans online to find a specific target audience!
You want potential customers! How do you achieve this? You start by choosing the right social media platform for you. All social media platforms are different and attract different groups of people. Engagement and conversations take place every second on social media every day.
One of the main reasons social media has proven to be so powerful for businesses is that it provides the ability to connect directly with customers. Trusted by over 6,000 ambitious brands around the world
Why Our Social Media Marketing Agency is the Best Option?
Social media has taken the world by storm for the past decade. It has taken over almost our entire digital internet space. Social media has become the most visited, used, and followed platform for the average user's internet experience.
Does this answer your question as to why you need SMM? If it's still not clear, let's make it more clear. You have a brand or an idea. You need to gauge your audience's attention and turn their attention to your product. Television advertising and billboards were the only platforms 15 years ago.
However, now if your average user spends most of their time online on social media platforms, instead of watching TV or reading forums, isn't that where you should advertise? Social media always grabs people's attention. This is where you need to embed your brand to capture the attention of your end-users. Social media AI also helps you to target a specific audience of users. For example, you can focus your ads on people who belong to a specific age group, neighborhood, country, or people with a specific set of likes and dislikes.
SMM has become the main marketing strategy of brands around the world. For brands that are too arrogant in advertising on social networks, the future is not bright. At KSM Media Hut, we put your brand first, improve your social media presence, and engage users to capture their attention.